Starlight Kiirtan
The song Starlight came about after reading one of P.R Sarkars discourses on the influence of starlight on our lives, which is on Unity Hours III and from that song came the kiirtan. It really has the feeling of being among the stars for me mixed with devotion. I asked Edgar Diehl if I can use one of his masterpieces as the album cover. The one I chose was "JUPITER II", 2011, (relief, acrylic on formed aluminium-sheet, 50x50x5cm), as its so vibrant and I resonate with the colours (read more under my recent Blog). I hope you enjoy the kiirtan as well as the cover, thank you so much for listening.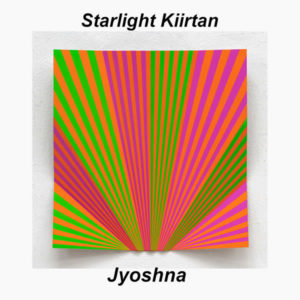 Now available on
You Tube https://www.youtube.com/watch?v=n-Lp_wVUVEE
Spotify https://open.spotify.com/album/48yI3islCik9y6NmSF8VcW
Google Play https://play.google.com/store/music/album/Jyoshna_Starlight_Kiirtan?id=B2cvjr6jwtzpjxejndwinieer4a
iTunes https://music.apple.com/us/album/starlight-kiirtan-single/1510613558?uo=4&app=itunes
During this lockdown, I have some time to refocus and prioritise what I want to do in my life, its a time of self- transformation and service for many of us. The great composer P.R Sarkar gave the motto 'art for service and blessedness', something I often ponder and aspire to. So my priorities are presently: doing spiritual practice, that is kiirtan, meditation, and yoga alone and with others (often online); looking after my Isabel (she's 2 now); doing some service in the small community in which I live; sharing with family and friends; finding support and being supportive of people, including the Rarh kiirtan musicians in India, who have had no work for some time so are in a critical situation. My thanks to people like Sanjay Mahato (friend and research partner) who are receiving donations and delivering food to them and others in need.
Any spare moment I have when I am not with my little one, I am now in my studio recording vocals, and guitar for the Unity Hours III kiirtan album, that will accompany the Unity Hours III song album. This gives me a great sense of purpose and fulfilment both personally and socially. Kiirtan or 'loud praise music' is universal, inclusive, and creates a direct link with ones deepest inner self. It's a way of communicating every emotion, every thought with the one thatis always present within. I am singing the mantra Baba Nam Kevalam, which means 'everything is an expression of the Supreme' in different tunes and rhythms that fit with the songs from Unity Hours III.
After the kiirtan is recorded I send it to Michael Lloyd, a dear friend of mine who has produced my music since 1994. He mixed and produced the song album and from the instrumental tracks I am adding the kiirtan vocals, and guitar while Kavita adds the drums and cymbals.To adapt a song to a kiirtan I must listen very carefully to the rhythms of the song lyrics and match them to the Baba Nam Kevalam mantra as closely as possible. Sometimes where there's an anacrusis for example, it requires an extra Baba or Baba Nam, at the beginning of the musical phrase, or at the end. This process is something I can expand upon in future. In this way the relationship between the kiirtan song (pada kiirtan) or bhajan (devotional song) and kiirtan chant (nama kiirtan) remains remains intact and is easily recognisable and memorable.
So backwards and forwards the mixes pass along the internet, until we are both satisfied and it is ready. Then comes time to share it with you. My wish is that you may find something in my music that inspires and nourishes you and gives you that impetus you need to do what you love most in this world. Thank you so much for listening.