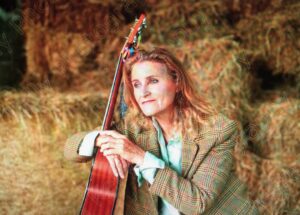 Jyoshna La Trobe is a NZ singer/songwriter and ethnomusicologist. La Trobe's original music communicates to others her life's journey, written from the heart and soul of an artist. Her 30 plus music albums range from intimate devotional love songs on Occen (1980) to her singer/songwriter style on Unity Hours IV (2022). She has also written on commission for feature films (Stars in Her Eyes), short films (Prout documentary), TV documentaries (NRK TV), festivals and other events.
As a performer La Trobe works as a solo artist, and in groups. Working in collaboration with musicians in Brasil, India, New Zealand, London, and Ireland of late, La Trobe has initiated recording projects and concerts, many of which benefit disadvantaged children in India, Haiti and Africa.
As an ethnomusicologist La Trobe's passion is to build bridges between people of diverse cultural backgrounds to bring greater understanding and appreciation between them. Her speciality is the investigation, lyric translation, musical analysis and promotion of Rarhi Kirtan (North East India), Maori and other indigenous music-culture's. La Trobe has initiated promotional tours in of Rarh music and dance in the UK, festivals in NZ and Ireland.
Jyoshna's ethnographic recordings are lodged in her own collection at the British Library World Music Archives under the name Jyoshna La Trobe's Rarhi Bangla Kirtan Collection (C1211). She has deposited, collated and catalogued over 100 hours of audio-visual recordings that highlight the beauty and diversity of Rarhi music – culture from India for present and future generations.
As an educationalist La Trobe's works as a lecturer, course author and leader, using innovative educational technology to provide greater opportunity for students of different cultural backgrounds to progress in their present context. La Trobe has initiated guitar schools for gifted children in low economic areas worldwide in New Zealand. She also teaches music and guitar to students privately and in groups.
————————————————————————————————————————–
Unity Hours IV
New Album Launch
Album Launch Concert by Jyoshna La Trobe and her Clare Band
Launching Jyoshna's latest album Unity Hours IV With great thanks to Mountshannon Arts for their Support
I am a New Zealand musician, songwriter and recording artist living near Mountshannon in County Clare. A concert to launch of my latest album called Unity Hours IV will took place at St Caimin's Church in Mountshannon on 27th August at 6pm till 8pm.  The album was recorded at Malbay Studios, County Clare in July 2021 with mainly Clare based musicians and mixed by Martin O'Malley at the studio, in July 2022. This will be my fourth album in my Unity Hours collection and comprises songs inspired by my life in Mountshannon from 2018 to 2021. Unity Hours I (2006) was recorded in London, as was Unity Hours II (2010). However Unity Hours III (2019) was recorded in New Zealand and this new Unity Hours IV was recorded in County Clare, Ireland.
All the experiences here are written with the ink of the heart in the Unity Hours CD collection and represent for me a musical diary of my personal, emotional, spiritual and geographical journey over the past fifteen years.
I am very grateful to all the musicians who contributed to the recording of Unity Hours IV,  namely Erik Azzopardi (Piano), Maja Elliott (Piano), Adam Fox (Electric Guitar), Sharon Howley (Cello), Tara Howley (Pipes and Low Whistle), Paul Mahony (Drums), Kavita Neumannova (Khol drum, Percussion), Pádhraic MacCionnaith (Banjo), Adam Rowatt (Bass), Philomela Amali Wybla (Harp) and Jantien Vandenberg (Sax, Flute, Harmonium). It was a real treat to play and weave together sounds from this acoustic tapestry embodying so many poignant and joyful moments.
Special thanks to Martin O'Malley at Malbay Studios and Michael Lloyd for their kindness, expertise and professionalism in the recording process and to Brendan Treacy for his insights and support as co-producer.
It can be downloaded here: https://jyoshna.bandcamp.com/album/unity-hours-iv
REVIEWS
UNITY HOURS IV:
"I want to express to you how deeply touched I am by your album, sincerely I think its the best album you ever made. It's so touching, I don't have the words in English to express how I experience it. It us deep, vulnerable, and yet strong, transformational and spiritual and devotional. Thanks you for this masterpiece. I listen to it again and again" (Gunatiita, Sweden, Sept 2022).
"I have been listening to Jyoshna's album Unity Hours IV album on repeat for two weeks.. The album deals with universal themes, love, longing and diversity.. I love the uilleann pipes, the harp, the piano and many other instruments give the album a Celtic world music vibe.. Key highlights are "If I could swim the ocean" it's really beautiful, with its highly visual imagery adding to that sense of longing, every word, every chord has a place. Its just an absolute masterpiece, it's so, so, so beautiful. 'My Little Isabel' deeply moved by it, its incredibly raw and very courageous, hugely personal. 'We are Not alone' looks at diversity. Overall I Iove the album, its very moving and beautifully enchanting, Jyoshna, and all the team, your best album yet".. .Jack Mac Carthy (Jiivan, Ireland)
"Elsewhere has always found time to listen to her (and is invariably impressed) and this new album – part of a series – exists between the spiritual (Dharma is my Life with music and lyrics by Pandit Ranjan Sarkar, Consciousness) and the secular (Whatever Happened to Our Love, Sing a Song Holiday, We Are Not Alone, Stand Up For Those Who Can't). La Trobe's concern is love, of the spiritual kind, as it manifests itself in life (She Who Abides in Love, Under Her Spell for her daughter) so when she sings "in my life I am yours" it isn't necessarily about a relationship but something on a more spiritual plane.Coupled with that wonderful voice and simple but empathetic arrangements for guitar, banjo, sarangi, piano, cello and percussion, this music gently soars with a folk-cum-hymnal quality. The sheer length of some of these songs – 10 of the 13 run past the 5 minute mark – mean she takes you on an aural journey yet the songs never outstay their welcome. A unique talent who draws from Western and Eastern musical traditions with rare confidence" GRAHAM REID, OCT 24, 2022 https://www.elsewhere.co.nz/music/10472/jyoshna-la-trobe-unity-hours-iv-bandcamp/ .
                                    ————————————————————————————————————–
Starlight Kiirtan Single
The song Starlight came about after reading one of P.R Sarkars discourses on the influence of starlight on our lives, which is on Unity Hours III and from that song came the kiirtan. It really has the feeling of being among the stars for me mixed with devotion. I asked Edgar Diehl if I can use one of his masterpieces as the album cover. The one I chose was "JUPITER II", 2011, (relief, acrylic on formed aluminium-sheet, 50x50x5cm), as its so vibrant and I resonate with the colours (read more under my recent Blog). I hope you enjoy the kiirtan as well as the cover, thank you so much for listening.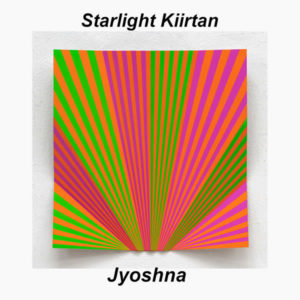 This Kiirtan is now available on
You Tube https://www.youtube.com/watch?v=n-Lp_wVUVEE
Spotify https://open.spotify.com/album/48yI3islCik9y6NmSF8VcW
Google Play https://play.google.com/store/music/album/Jyoshna_Starlight_Kiirtan?id=B2cvjr6jwtzpjxejndwinieer4a
iTunes https://music.apple.com/us/album/starlight-kiirtan-single/1510613558?uo=4&app=itunes
——————————————————
Jyoshna's Kiirtan Guitar Booklet!
By Jyoshna La Trobe (PhD)
https://www.amazon.com/Kiirtan-Guitar-Baba-Kevalam-Mantra/dp/B0882HK9QK/ref=tmm_pap_swatch_0?_encoding=UTF8&qid=1588849010&sr=8-1
The Paperback and Ebook of the Kiirtan Guitar Booklet is here! It has musical notation and guitar chords with the Baba Nam Kevalam universal mantra. It's the first Kiirtan Guitar booklet ever on Amazon!
Learn new tunes and expand your repertoire with twelve new kiirtans, eleven originals plus  'Tiny Green Island' composed by Prabhat Ranjan Sarkar. There's also video links for each of the twelve kiirtans.  Having put my heart and energy into making this kiirtan booklet I want to now share it with you. I hope that you will join me in singing these kiirtans and make kiirtan even more widespread.
Many thanks to Erik Azzopardi for his wonderful music editing skills, to Kavita Neumannova for hours of formatting and Jano Stefanik of Croi Publishing for publishing the booklet. I am also grateful to you, the reader for sharing this spiritual/musical journey with me and many others. My deep love for Shrii Shrii Anandamurti who gave us Baba Nam Kevalam and inspired us to write many new tunes that anyone can sing.