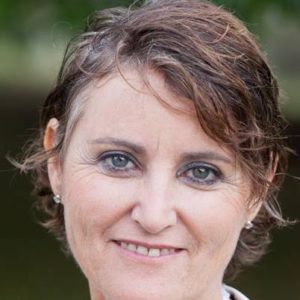 Jyoshna La Trobe is a NZ singer/songwriter and ethnomusicologist presently living in Co. Clare, Ireland. La Trobe's original music communicates to others her life's journey, written from the heart and soul of an artist. Her over 30 albums are diverse and extensive ranging from her first, Occen in 1980 to her most recent Unity Hours III, 2019. She also writes on commission for feature films, short films, TV documentaries, festivals and other events.
As a performer La Trobe works as a solo artist, as a duo with percussionist Kavita Neumannova and in groups. Working in collaboration with musicians in various projects worldwide, La Trobe initiates recording projects with adults and children, many of which are Benefit recordings/concerts that support disadvantaged children in India, Haiti and Africa.
As an ethnomusicologist La Trobe's passion is to build bridges between people of diverse cultural backgrounds to bring greater understanding and appreciation between them. Her speciality is the investigation, lyric translation, musical analysis and promotion of Rarhi Kirtan (North East India), Maori and other indigenous music-culture's. La Trobe has initiated promotional tours in of Rarh music and dance in the UK, festivals in NZ and Ireland.
Jyoshna's ethnographic recordings are lodged in her own collection at the British Library World Music Archives under the name Jyoshna La Trobe's Rarhi Bangla Kirtan Collection (C1211). She has deposited, collated and catalogued over 100 hours of audio-visual recordings that highlight the beauty and diversity of Rarhi music – culture from India for present and future generations.
As an educationalist La Trobe's works as a lecturer, course author and leader, using innovative educational technology to provide greater opportunity for students of different cultural backgrounds to progress in their present context. La Trobe has initiated schools of guitar music for gifted children in low economic areas worldwide. She also teaches music and guitar to students privately and in groups.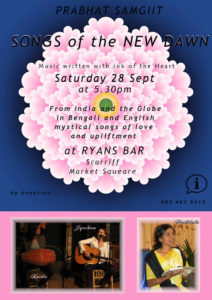 Songs of the New Dawn are composed by the Indian composer Shrii Prabhat Ranjan Sakar, called in Bengali, Prabhat Samgiit. There are over 5000 songs, and each one is a jewel, expressing love, devotion and social inclusion. They give insights into many topics, social, political, psychological, and spiritual, placing them within a deeply humanitarian perspective. They fit within many genres of Indian music, including folk or jhumur, mystic songs or Baul, semiclassical and so on and there are also a few songs written in English too.
Our Guest Singer tonight is Pritilata, of Indian origin and presently residing in Germany, and expert in Prabhat Samgiit.
Kavita and I will also perform some favourites of mine, including the mystic Baul songs of Rarh, a region where I have spent many years resaerching and delving into the music.